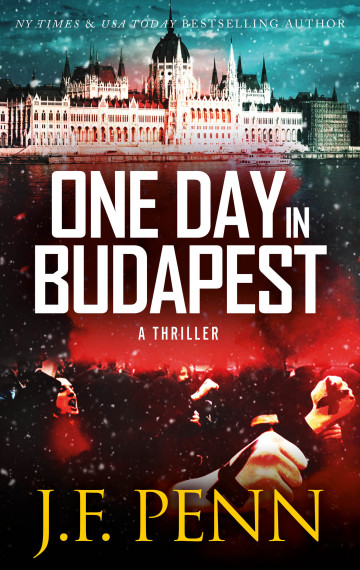 Available in:

Ebook, Print, Audiobook
Nationalistic fervor. Genocidal violence. The first time, the world went to war. This time, the world could end.
When a priest is murdered and one of the holiest relics of Christendom stolen, the ultra-nationalist Eröszak group is ready.
Fanning flames of hatred into a firestorm of anti-Semitic violence the likes of which haven't been seen since the darkest days of World War II, Eröszak's leader has the perfect plan to turn Hungary — and later, the world — into a nightmare of fascist rule.
They've planned for every option, for every eventuality… except one: Dr. Morgan Sierra, agent of ARKANE.
Morgan didn't intend to get involved — she was just in Budapest to deliver a pair of artifacts to the historic Dohany Street synagogue. But when Eröszak's thugs attack, Morgan finds herself the only thing standing between them and the overthrow of an entire government.
Nazi fanaticism, religious relics, and the blood of innocents combine to create a mystery fit for an agent of ARKANE — the British agency tasked with the uncovering of and defense against the supernatural.
And Morgan knows that she only has one chance to stop Eröszak and its leader. Because if she doesn't, history may well repeat itself — only this time, the forces of darkness will win.
Based on true events, One Day in Budapest is the fourth standalone thriller in New York Times and USA Today bestselling author J.F. Penn's ARKANE series. Grab your copy to find out what the buzz is about, and get ready for the dark, the disturbing… the ARKANE.
Audiobook Preview
Images from the Book
Follow J.F.'s board Budapest on Pinterest.
Reviews
"This evocative and atmospheric thriller pulls you into the dangerous world of modern day Budapest, where the secrets of the past have exploded into the present. The pulse-pounding suspense never lets up–from the first page till the last. Clear an afternoon for this novella, because you won't be able to put it down once you've started!" – Rebecca Cantrell, New York Times bestselling author of 'The Blood Gospel'

"J.F. Penn does a great job of painting her fictional tale on a canvas of truth … a close and cutting look at the horrendous evils that occurred during World War II and the communist era and deftly demonstrates how those same seeds are beginning to flower again. This novella brings adventure with a deeper awareness." — Compulsion Reads Endorsed Books Review

"I couldn't put it down. Mystery, great characters and a good story kept me riveted." – Sandra Singleton

"…a high action, fast paced adventure read. Bravo Ms. Penn!" – Stephenson Family

"Penn's 'One Day In Budapest' is a gripping novella built on several skilfully handled tensions. Religion, fanaticism, identity and terror drive the story. Penn subtly weaves the necessary history into the narrative. Relentless writing that throws a lighted match into the powder keg that is the past." – Richard Godwin

"This story was compelling from the first page with a weave of politics, religion, history and a warning about the future. J.F. Penn is a well-informed master who keeps the reader involved from the death of a priest and a stolen artifact through the non-stop action. She is a master and the novella is a work of art." – JCD

"I love a good thriller, and 'One Day In Budapest' didn't disappoint. J.F. Penn is the real deal, a thinking person's writer who has done her research and knows how to bring a story to life." – Marie-Therese Hernon

"I was not only entertained but educated. This is a book that will transport you to the landmarks in Budapest and witness the dark history of this ancient city and the growing far right wing politics of today. This is a conspiracy thriller where religion and politics intersect. A must read!" – Greg

"Joanna Penn has done it again…she's written a novella rich in imagery based on solid research, which transports the reader to a politically torn Budapest." – Marcia Richards

"Truly a thrill ride that will leave you breathless and also make you think, the latest from J.F. Penn is everything it should be." – Christine Myers