I'm fascinated by religious relics. They appear in a number of my thrillers because they hold so much meaning for believers, and many of them are really strange.
Relics are sometimes used to give to weight to political posturing and they're sometimes pressed into service for more nefarious reasons … So maybe, just maybe, they hold a lot of their own power too.
But there's no denying that some relics are just bizarre.
From dried blood to severed heads, mummified hands and even preserved footprints, here are 15 of the weirdest and most wonderful religious relics around the world!
1. The Turin Shroud, Turin
Believed to be the burial shroud of Jesus, this linen cloth bears the image of a man – apparently that of Christ himself. While radiocarbon dating places it in the medieval period, many believe the image is far more detailed when viewed as a negative. Conspiracy theorists consider that such an image would be difficult to forge in the medieval era.
The Shroud even has its own website, which describes it as 'the single most studied artifact in human history.' But the Shroud is incredibly delicate, so it won't be shown again until 2025.
2. The body of St Francis Xavier, Goa
Francis Xavier was a 16th century Roman Catholic missionary in Goa, India. He also worked in Japan and China, among others, but he's most famous for his work in India. Most of his body is on display at the Basilica of Bom Jesus in Goa, India. You'll find him in a glass container and he's been in there since 1637.
His right forearm was detached in 1614 and is now at the Jesuit church in Rome, Il Gesù. Another arm bone, the humerus, is in Macau, having been kept there for safety instead of going on to Japan.
The Basilica of Bom Jesus, and indeed the Saint's body, appear in my ARKANE thriller, Destroyer of Worlds, as Morgan and Jake race to stop an ancient weapon being unleashed.
3. The Buddha's Tooth, Kandy
A left canine was allegedly taken from the Buddha's funeral pyre in 543BC. According to legend, only the tooth remained following his cremation. It's currently housed at the Temple of the Tooth in Kandy, Sri Lanka.
Wars have been fought over it since whoever possesses the tooth has the right to rule the island. It's only displayed on special occasions, but it's said to perform miracles whenever anyone threatens to destroy it.
4. Muhammad's Footprint, Istanbul
The Topkapi Palace in Istanbul houses a number of Muhammad's relics. They include a signed letter, a sword and bow, his footprint and hair from his beard. According to legend, his beard was shaved after his death by his favorite barber.
His footprint allegedly made a lasting impression wherever he went and prints are displayed all over the Middle East. Some remain in situ, but the Istanbul print is preserved in the museum.
5. The Holy Right Hand, Budapest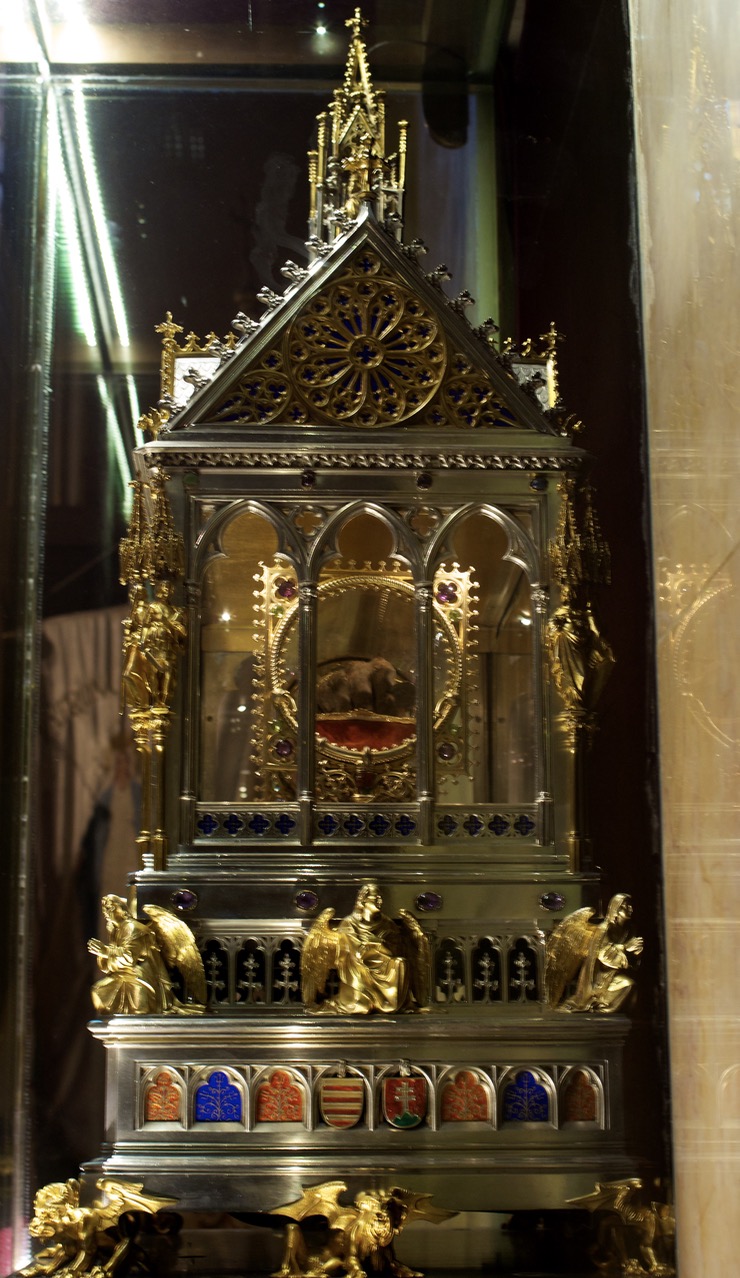 The Holy Right Hand is thought to have belonged to King Stephen, the first Hungarian King, who died in 1038.
His death provoked unrest and his followers worried that his body might be desecrated. When he was exhumed, they discovered his right arm was perfectly preserved.
His arm was added to the Basilica's Treasury. It was stolen and kept in Romania for a while, though it's now back in the Basilica of St. Stephen in Budapest.
A chronicler noted that while it was in Romania, the hand wore St Stephen's ring. The Holy Right Hand on display doesn't wear one and doesn't look like it's ever worn one. Some wonder how genuine the Holy Right Hand actually is …
In my political thriller One Day in Budapest, the Holy Right is stolen and a right-wing faction move against the Jews of the city, as they did in the dark days of the Second World War. The right is rising …
6. Mary's Holy Belt, Prato
Most religious relics seem to take the form of body parts, but the Virgin Mary left her belt behind instead. Her handwoven belt is kept in a silver reliquary in Prato Cathedral. The arrival of the relic allowed the Cathedral to add a transept and a new chapel.
According to legend, she gave the belt to the apostle Thomas before she ascended to Heaven. That's Doubting Thomas – and the Virgin allegedly gave him her belt as physical proof of her ascension. The belt, known as Sacra Cintola, is displayed five times a year in the chapel built especially to house it. In centuries gone by, it was venerated by pregnant women.
7. St Catherine's Head (and thumb), Siena
One of Italy's two patron saints (along with Francis of Assisi), St Catherine died in 1380 at the age of 33. But she died in Rome. When the people of Siena requested her body for burial, the request was denied. A group of her followers decided to exhume her anyway to return her to Siena. According to legend, she was decapitated because they couldn't conceal her entire corpse.
When the body snatchers were apprehended, guards found only rose petals inside their bag. The guards let them go, and St Catherine's followers returned to Siena. The rose petals turned back into her head and it is is now displayed at San Domenico Basilica. Her head remained in Siena, but three of her fingers and a foot went to Italy, a rib went to Florence, and her hand and shoulder blade went to Rome.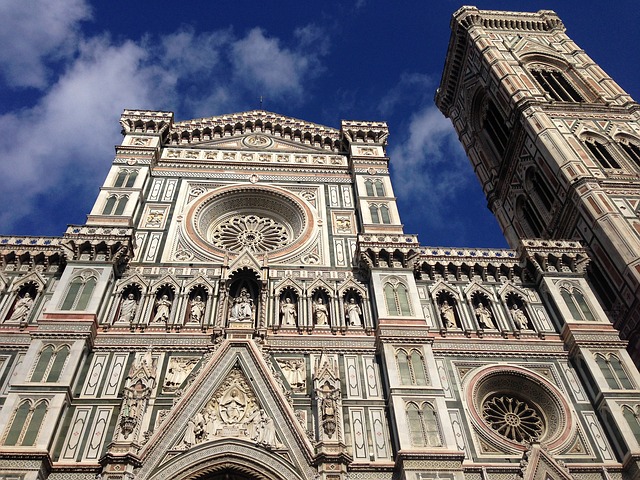 8. St Antoninus' body, Florence
St Antoninus was a popular priest in Florence, getting by with only the bare essentials of life. He was so popular that Pope Eugene IV wanted to make him an Archbishop, and he threatened to excommunicate Antoninus when he declined the offer.
St Antoninus died in 1459 but his body wasn't immediately embalmed as it should have been. Left to the elements for eight days, his body didn't decompose. His followers took this as a sign of his incorruption, so he was placed in a glass coffin to display his divinity. You can see his corpse at the Church of San Marco.
9. Shrine of the Three Kings, Cologne
The bones of the Three Wise Men apparently rest in the ornate gold-plated sarcophagus inside Cologne Cathedral. According to legend, their remains originally lay in Constantinople, before being taken to Milan, then Cologne in 1164. The shrine is the largest reliquary in the western world. Some of the images on the shrine depict the dawn of time, as well as the Last Judgment.
It was damaged when it was hidden in 1794 to keep it from French revolutionary troops, but it was largely restored during the 1960s. Cologne is so proud to house the Three Magi that there are even three crowns on the city's coat of arms.
10. The cloak of Muhammad, Kandahar
This is more of a powerful religious relic than a weird one. The Kerqa, believed to have been worn by Muhammad, is kept at the Shrine of the Cloak in Kandahar, Afghanistan. Some tales say the cloak was used to solidify a political treaty in 1768.
Others say that Ahmad Shah saw the cloak in Bukhara. Its keepers wouldn't let him borrow it, so he had a rock planted near by. Ahmad Shah told them he would never take the cloak far from the rock…then promptly took both the rock and the cloak back to Kandahar.
In more recent times, Mullah Omar, the then-leader of the Taliban, wore it in front of his followers. But the cloak hasn't been seen in public since 1996.
11. The Blood of San Gennaro, Naples
St Gennaro was beheaded by Emperor Diocletian in 4th century. His dried blood is presented to local residents and pilgrims at Naples Cathedral on September 19, December 16 and the first Sunday in May. They wait for the blood to liquefy, making this a grisly religious relic.
As the patron saint of Naples, the liquefaction of his blood is thought to signify a miracle and protects Naples from disaster. In 1527, it failed to liquefy and Naples suffered an outbreak of plague. In 1980, they were struck by an earthquake. The relic was even venerated by Pope Francis in March 2015.
12. The Heart of St Camillus
St Camillus started out life as a soldier and a gambler. He later repented and devoted his life to caring for the sick. After being denied entry to the Capuchin order thanks to a leg injury, he established the Order of Clerics Regular, Ministers to the Sick. They specialised in assisting injured soldiers on the battlefield. A large red cross was a symbol of the Order – centuries before the Red Cross was formed.
Many were so struck by his charity that they thought it must have left an imprint on his heart. So after he died, his heart was removed and preserved with salt. This religious relic is definitely more weird than wonderful. It's now kept in a gold and glass container and it even went on tour. It visited Thailand, Ireland and the Phillippines.
13. The hand of St Teresa de Avila, Ronda
St Teresa de Avila reformed the Carmelite Order, and after she died, her remains were found to be incorrupt. Her left hand became a relic, but it was seized by General Franco in 1937. St Teresa had once been a contender for Spain's national saint, and Franco used her during the Spanish Civil War as an ideal of traditional Spain.
According to legend, he kept the hand by his bedside until he died in 1975 – allegedly while holding the mummified hand. It now rests at the Iglesia de Nuestra Señora de la Merced in Ronda, Andalusia.
14. The Holy Foreskin, currently missing
Yes, it really is as weird as it sounds. As many as 18 different churches have laid claim to having the skin from the infant Jesus's circumcised penis since the Middle Ages. St Catherine of Siena even claimed to wear an invisible foreskin as a ring.
But the most notorious Holy Foreskin was kept in the town of Calcata, near Rome, until it disappeared in 1983. Its whereabouts are still unknown.
15. The Tongue and Jaw of St Anthony, Padua
At the age of 35, St Anthony of Padua succumbed to ergot poisoning – also known as St Anthony's Fire. He sealed himself in a small cell under a walnut tree and waited to die. He actually died on the way back to Padua where he was buried in 1231.
32 years later, his followers pried open his vault. Most of his body had turned to dust, but his tongue was strangely still fresh. Many believe this is a testament to the power of his words while alive.
St Bonaventure had St Anthony's tongue, lower jaw and vocal chords mounted in a metal shrine. His tongue even went on a tour of UK churches in 2013.
You can visit a lot of these strange and sometimes unsettling religious relics. Just remember that they have meaning for many believers, so always be respectful. And who knows what weird experiences you might have when you see them?